I chose to play a rogue because im too manly to be a wizard; and too sly (like a fox!) to play a warrior.
Sometimes when trashYOURSELF kills too many monsters, her eyes turn red; I have since speculated that the game producers are in fact, sadomasochists (they get horny when people get hurt), and as a result have also designed the game characters to reflect this.
Some of my hobbies include eating red meat; cars; and sexism. Thats right; I just named 3 very manly hobbies. The last 1 gets me into trouble with the women a lot, but its ok, cos those women should get out my face and go back to the kitchen to make me a sandwich and martini.
In fact, here is a picture showing 1 of my heroes.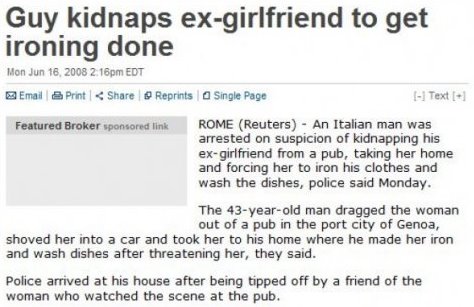 I like to listen to disco, because I live by the philosphy of always being upbeat and happy.
Here is a song by treasure fingers, who I am very fond of at the moment, when woman in the song picks up, it sounds
JUST LIKE
richhoney, who is some loser girl that I happen to talk to sometimes.
https://www.youtube.com/watch?v=H8h7BN3E_HE
hahahahaha yeah... writing this made me smile. I like to screw around and laugh as much as I can, cos I believe life is much more interesting when you are happy
to end things, here is a picture of me riding a yak IN A RIVER!!
...he smelt like poo

LOLOL haha




Posts

: 148


Join date

: 2010-05-03


Age

: 26


Location

: Dallas, Texas



Uh... how do you make a martini now? ._.



Posts

: 60


Join date

: 2010-05-07


Age

: 37


Location

: Columbus, Ohio



gin:vermouth 4:1
straight up
lime peel

why were u riding a yak
hahahhaah



T___________T sexist.
Admin




Posts

: 150


Join date

: 2010-05-02


Age

: 27


Location

: *Chicago*Bkk*Osaka*



Admin




Posts

: 150


Join date

: 2010-05-02


Age

: 27


Location

: *Chicago*Bkk*Osaka*



Last edited by trash is awesome on Thu Jun 24, 2010 3:17 am; edited 1 time in total
lol
LOL
NICE
this should go on our main forum in luna.gpotato.com
XD



Posts

: 148


Join date

: 2010-05-03


Age

: 26


Location

: Dallas, Texas





Similar topics
---
Permissions in this forum:
You
cannot
reply to topics in this forum